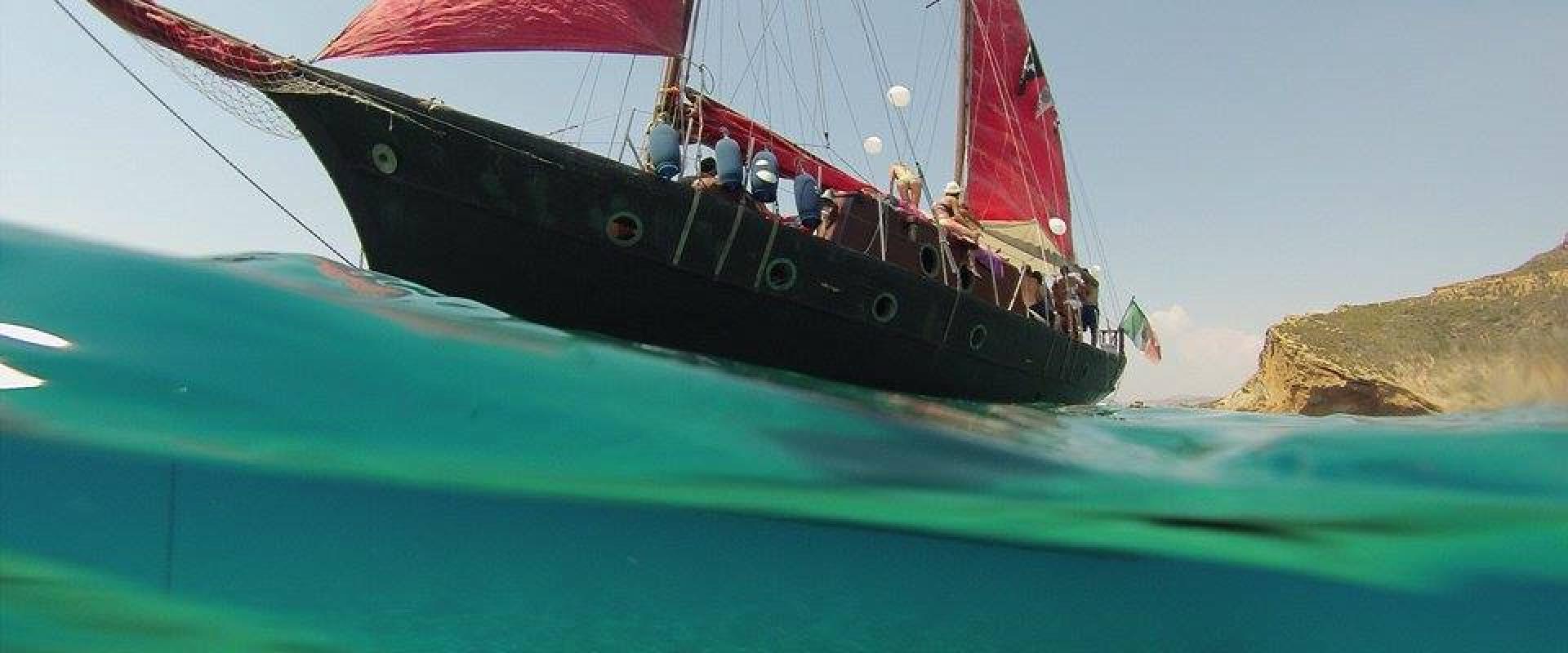 Boarding in ancient galleon and sailing along the coast of Agrigento to the famous Stair of the Turks
An unforgettable experience!
An unforgettable experience on board of a schooner Galleon of 1936 equipped with comfortable seating, cushions, poufs, sunbathing areas, shady spots, cov-ered rooms and all necessary facilities.
On board you will find surfboards, for those who have some difficulties to swim or want to sunbathe directly from the sea rocked by the waves, snorkeling equipment for the adventurous who want to explore the wonders of the coast.
The excursion takes place along the coast of Agrigento between Punta Bianca, Scala deiTurchi and Capo Rossello, a very striking coastal for its beautiful beaches and clear sea that will excite feelings of peace and well-being.
The deoparture is at 10:00 a.m. from the port of San Leone.
The first part of the day will include a sweet navigation of about one hour during which you can sunbathe and admire the play of colors of the coast that is un-paralleled throughout the province, until we reach the famous
Turkish Steps, a white rock strip that shines in the sunlight. Its white color and its undulating forms that enchant tourists from around the world for almost half a century or more, are the reason why this sitesoon will become patrimony of UNESCO.
Immediately after Turkish Steps there is Capo Rossello and Rocca Gucciarda where we will stop for a refreshing swimming.
Meanwhile, our chef will prepare for you lunch/dinner on board. After the bath, we'll enjoy a good dish of pasta with pistachio pesto, shrimp and fresh chopped bitter almonds, with excellent white wine.
After lunch there will be a more relaxing time during which you can rest lulled by the waves or swim in the blue sea again direclty from our boat. In the early af-ternoon we will be back to the harbor of San Leone.
Typical lunch/dinner on board!
Talk to a travel expert and personalise your trip