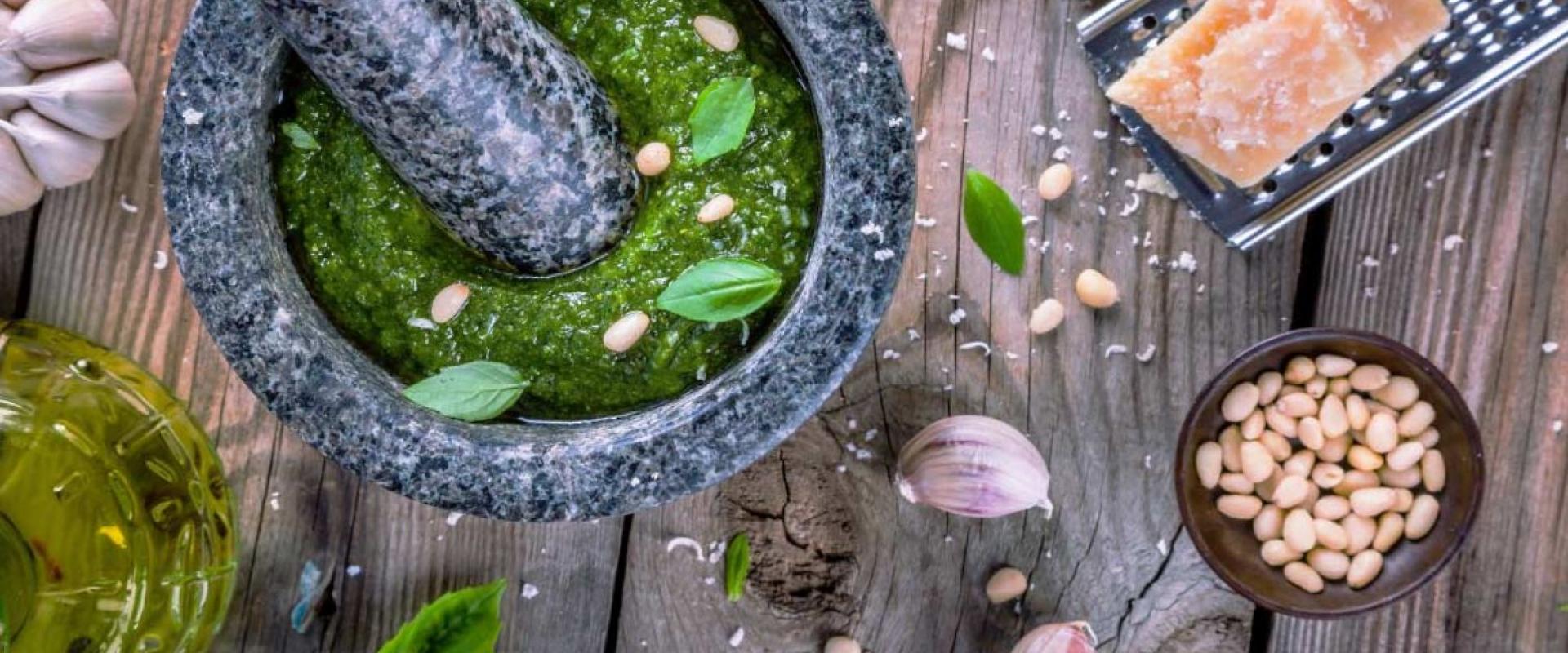 Pesto cooking class experience
Cousin Luisa is determined to celebrate Grandma's Dina's 110th birthday anniversary with a family reunion, inviting relatives from the four corners of the world. Grandma was famous all over Genoa for her superb basil pesto (always made with a pestle and mortar), which will be the focus of the party… yet, the recipe is nowhere to be found! Grandma, a good-humoured riddle enthusiast, left but a handful of clues – and it is up to her descendants to reassemble the scenting recipe.
So, do not forget your shopping bag, as we will be hunting ingredients throughout the centre of Genoa - caruggi, ancient shops and the stalls of the Mercato Orientale, the city's most renowned market.  
Luisa, in the role of Grandma Dina's grand-daughter, will take you on a journey into Genoese gastronomic traditions: an exploration of markets and typical shops rich in flavours and tales, culminating in a mortar and pestle "how to make pesto" cooking demonstration – not to forget about a pesto lunch/dinner final celebration.
PROGRAMME
- Meet Luisa at Zena Zuena, bar focacceria
- Start hunting for clues at the Mercato Orientale and find the ingredients of authentic pesto
- Tread along the streets of the ancient Sestiere di San Vincenzo and search its old shops to discover the secrets of pestle and mortar (selection of fittest utensils)
- Experience the best pesto and wine matchings in a renowned wine shop
- After a short walk, enjoy tastings, show cooking demo and hands-on cooking lesson (how to make traditional Genoese pesto) at the Pesto Corner to reassemble the correct recipe
- Succeed in your endeavour and celebrate in a nearby ancient Osteria – enjoy your meal!
- Final toast and group picture
- Delivery of the reassembled pesto recipe, signed by participants
Talk to a travel expert and personalise your trip